Don't be a victim:
This is another type of Cyber Online Scams doing the rounds you should definitely watch out for. This time the Cyber Criminals are targeting innocent ABSA clients.
Below is an example of an email I received:
Subject line: Unauthorized login on your account.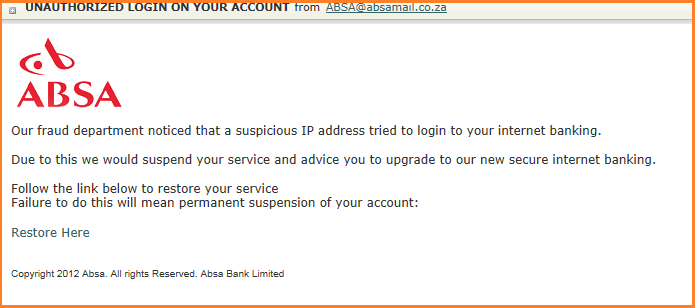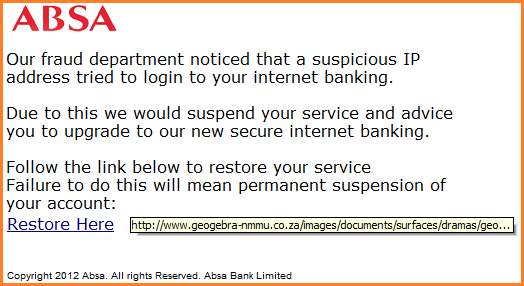 NB: If you hover your mouse cursor over the Restore Here crap, without having to click on the link you will notice that the website link is not pointing to an official ABSA website, as such don't click that damn link, just delete the email. In so doing you are saving yourself from being scammed and attempted victim of Cyber Scam Internet fraud.
Cyber criminals are using advanced electronic medium to prey on victims.
You can protect yourself by learning how to recognize the danger signs of fraud and making sure that your computer security updates are fully patched to the latest release, and your computer is protected by a reputable Antivirus Software. If you are a victim or attempted victim of Cyber Scam Internet fraud, it's important to report the scam quickly so that law enforcement agencies can shut the fraudulent operations down.
That's it. Any comments are welcomed!